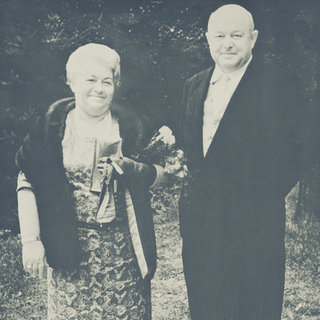 In 1932, in a back alley basement in the Bavarian town of Fürth, newlyweds Hans and Frieda Lang founded a small mirror workshop which would eventually become the Lang Group. The young couple named its brand new enterprise "Spiegelfabrik Ing. Hans Lang" and set out to manufacture hand-held and pocket mirrors. Initially, the company's business focus was glass silvering and mirror glass processing.
The founders' sons and the company's managing directors since 1960, Heinrich and Günter Lang, began specializing in the production of smaller mirrors. In 1964, the company relocated to larger premises in Schuckertstraße in Fürth/Stadeln to be able to meet the increasing demand for its products. After relocation, the brothers purchased their first injection molding system and took up the production of rear view mirrors for commercial vehicles and passenger cars as well as plastic parts manufacturing. These products turned out to be so successful that in 1978, after the acquisition of MEtallwaren KRAuse - a highly respected Fürth company with a rich business tradition - the company launched its Ergersheim operations laying the foundation for what has become today's MEKRA Lang.
Over the years, the product portfolio steadily expanded from mirrors and mirror systems to proprietary camera monitor and mirror replacement systems. In 2004 the company expanded by adding the Lang Technics division which specializes in mirror glass development and production.
Today the third generation of Langs is at the helm of the successful family enterprise. Susanne Lang as Managing Partner and Dr. Werner Lang as Managing Director are responsible for the company.
A success story from its very beginning, MEKRA Lang has become the worldwide leading manufacturer of vision systems for the commercial vehicle industry, with a workforce of about 2900 employees and operations in 7 locations in 7 countries around the globe. By offering an extensive portfolio of innovative products and solutions, the Lang Group of Companies has become a valued partner of virtually all leading commercial vehicle manufacturers, a systems supplier of mirror and camera monitor systems and a trusted vendor for the truck, construction equipment, agricultural machine, bus and recreational vehicle and light commercial vehicle segments.